SourceLink® comes with a few pre-built survey templates, including a template specifically for National Urban League users, titled "NUL - Existing Businesses". Templates can be used exactly as they appear or modified. In addition to the pre-built templates, you can save an existing survey as a template if you plan to replicate the survey.

Creating a Custom Template from an Existing Survey

Go to Surveys --> Survey Listing

Open an existing survey

Click the down arrow on the Save Survey button for additional options

Click Copy as Template

Click Create Template

Your template will be saved and opened immediately

Using a Survey Template (Pre-built or Custom)

Go to Surveys --> Survey Listing

Click Add Survey

From the Survey Template dropdown, choose the Template you wish to use

Give your Survey a Title and click Create this Survey

Your new Survey based on the template will be created and opened immediately

Modifying a Custom Survey Template

Go to Surveys --> Survey Listing

Click Add Survey

Click Manage Your Templates

A modal/popup will be shown with your existing custom templates with options to Open, Preview, Copy and Delete each template

Previews of Built-In Survey Templates

Blank Survey Template: this is a completely empty shell. All questions must be added.

Event Follow-up Template: this survey is designed to be sent to a client who has participated in an event of some sort, but it is general enough to be used as a starting point for a more detailed survey regardless of whether the event attended was a networking event, a seminar, a training session or a lengthy class.

Business Snapshot: this survey asks the type of questions designed to provide an economic snapshot of the business at a moment in time. These questions, if asked on a regular basis provide a view of how that business is faring. Much of the information in this template uploads in to the Snapshots tab of the individual client record.

Initial Snapshot Survey: this survey uses questions that an organization might ask to collect baseline information for a new company client.

Quarterly Snapshot Survey: this survey uses questions an organization might ask to collect ongoing information related to snapshots.

Contact Information Verification: this survey includes questions that are populated with currently held information on addresses, phone numbers, email, fax number and business start month/year.

NUL-Existing Businesses Survey: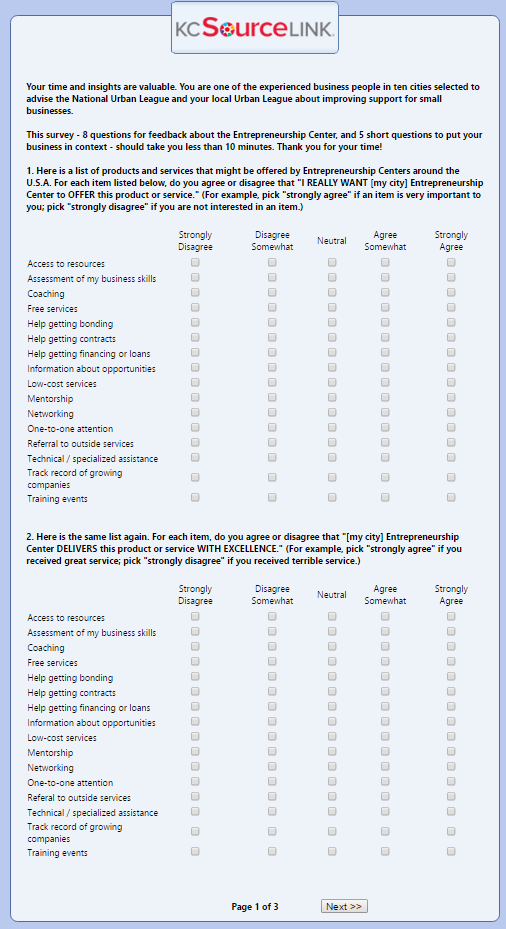 1-Month Satisfaction Survey

Use this survey to gage satisfaction with hotline callers, requests for assistance via email or requests for a
Personal Action Plan
. Question 3 is a Library or Synced question that will populate the resources that were referred to the client. See
Creating Surveys
.