When providing client services you may need to refer them to other organizations, consultants or businesses for additional services. The Referrals Tab allows you to record and easily report on these referrals. You also have the option to automatically email some of the client's information to the service provider using the Email Referral option.

Verbal Referrals

To make a Referral, click on the Referrals Tab in the top nav bar within the Client Record.


Click

The Client Referral screen will appear.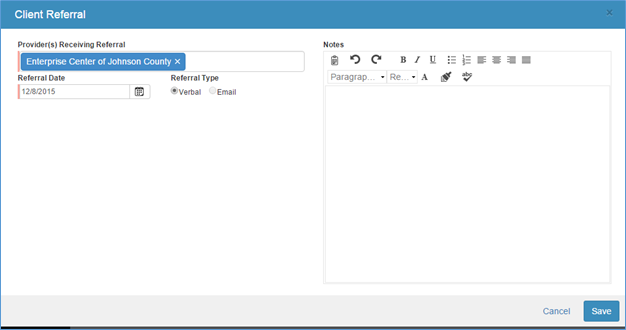 In the Provider Receiving Referral box, begin typing the name of the provider. It will autopopulate a dropdown box with choices. Select the appropriate Provider by clicking on the name. You can enter multiple Providers; start typing in the next name and another dropdown will appear.

Note: The referral entities that appear in this list are maintained via the Referral Organizations section of Referrals in the left Navigation Panel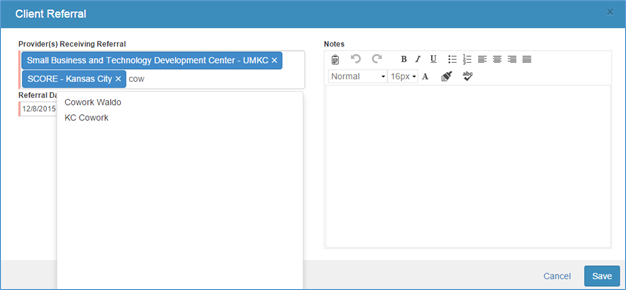 Note: All referrals default to Verbal Referrals, unless otherwise specified

Click Save.

All referrals made to a client can be seen in the Referrals screen.


You can Open or Delete a specific Referral under Options.

You can view of list of all referrals by clicking on

You CANNOT edit referrals.

Email Referrals

Email Referrals allow you to send an email to any Resource Provider with information about the client being referred. The process for sending an Email Referral is very similar to recording a Verbal Referral.

To make a Referral, click on the Referrals Tab in the top nav bar within the Client Record.


Click

The Client Referral screen will appear.

Start typing the name of the Resource Provider to whom you wish to make the referral.


Tip: To send an email referral, the Resource Provider must have an email listed in the Referral Organizations section.

Organizations with an email will show the email below the name. Select the name from the list. Check Email under Referral Type.

Type any notes you'd like to include in the email into the notes field. Click Save.

An email will be sent automatically to the organization(s) selected.

Note: If you are referring a client to multiple organizations, you must choose either Verbal or Email referral for the entire list. One option is to group the Resource Providers into two groups and do two separate referrals.

Referral Options

The recipient will receive an email from yourorganization@my.joinsourcelink.com which can include any of the following Client information:

Name

Phone Number

Fax Number

Address

Entity Type

Web URL

Email

Include People

Include Documents (All documents not marked "confidential")

Set these options by selecting
Setup – Referral Options
under Setup in the left Navigation Bar. Check the boxes of the information you wish to have sent in the email.
A sample of the email that is received is shown below.