Add a Blog Post

Login to the backend of your site:

Click 'Content' → 'Blogs' and then click the appropriate blog

Click 'Create a Post'

Power User Tip: DON'T click Create Blog unless you want to create an entirely new blog. Each story is called a post.

Title: required, be descriptive, remember SEO

Copy Block: cut and paste blog post, or draft here. The CopyBlock works very much like a Word document. You can cut and paste copy, insert images (using the Insert images icon), link content (using the link icon) and format text using the bold, italic, list and headline tagging functions. Click 'More formatting options' for centering, font colors, etc.

Summary: short summary that will be displayed on blog summary page

New Feature: Use the Staff Module to change the author of a blog to a specific person.
1. To create a profile in the Staff Module, go to Content>- Staff Members and complete the profile.

2. Then go to Staff Author in blog settings and change the "author.'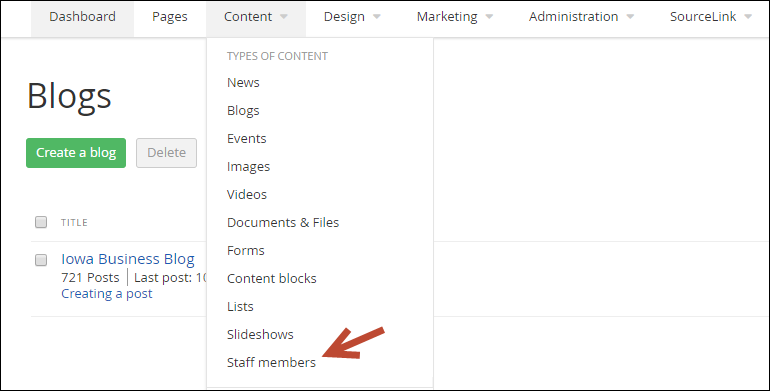 Click →Publish when finished.

Power User Tip: You can schedule a post for a future date by clicking on More Actions and inputting the date to publish. You can also schedule a post to unpublish using the same button.